After supper the other night, my wife and I, we were sitting outside by the campfire. The fire was blazing, the heat was welcome in the chilly November night. We were mellowed out. I pointed out the night time spectacle clearly visible above us: the moon, with the two planets Saturn and Jupiter clearly visible to the right of it.
And a third, very bright planet, Mars was positioned higher in the sky far to the left of the moon. All of these were on the track the daytime sun follows across the sky, called the ecliptic.
Well, what can I say? Was she impressed by this cosmic view laid out before us? I'm guessing this astronomical spectacle did not score high on the romanticism scale!
But then something else happened! Suddenly I noticed a bright moving light to the west of Jupiter and Saturn, passing swiftly upwards and towards the east across the sky! It must be a satellite! It was the International Space Station moving across the night-time sky above us!
I quickly pointed this out to my wife, and she too caught sight of it. We followed its steady progress across the sky to the east. Then, just as quickly as it had appeared, the ISS disappeared behind our earth's shadow and on into night time obscurity.
These last months of 2020 we are able to witness a number of notable night-time spectacles. First there has been the nearest approach of the planet Mars, which happens every two years. Then there is the Conjunction of Jupiter and Saturn which will happen on Dec. 21. That is when these two, the largest planets of our Solar System have their "Conjunction". This Conjunction last happened many years ago, in 1623. That was 14 years before Galileo invented the telescope! We are able to witness a unique spectacle which is clearly visible evidence of the dynamics of our incredible solar system.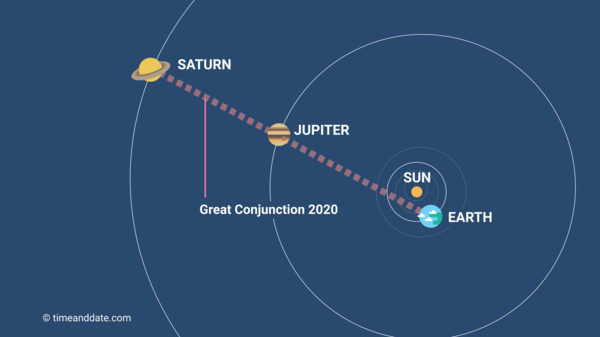 https://www.skyatnightmagazine.com/advice/skills/great-conjunction-jupiter-saturn/
All of these astronomical phenomena are totally a teachable moment! What a wonderful time to get the kids involved in the marvels of astronomy, the stories from early European scientific discovery and the basic physics of the solar system and the regular movement of the planets. You could even find a low-cost telescope to set up and view the rings of Saturn and moons of Jupiter which will all be at their most visible in the month of December 2020.